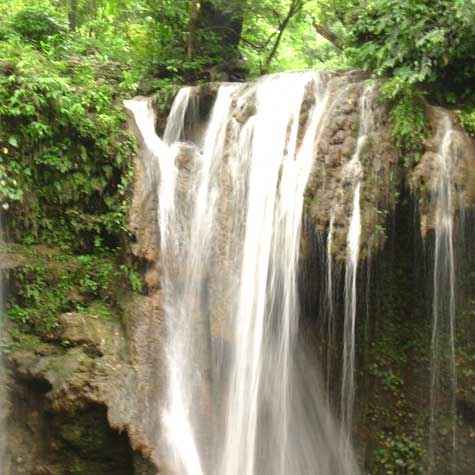 Jim Corbett National Park is the oldest national park in India.The park'named for the hunter and conservationist Jim Corbett who played a key role in its stablishment'was established in 1921 as Hailey National Park. Situated in Nainital district of Uttarakhand the park acts as a protected area for the endangered Bengal tiger of India, the secure survival of which is the main objective of Project Tiger, an Indian wildlife protection initiative.The park has sub-Himalayan belt geographical and ecological characteristics.An ecotourism destination, it contains 488 different species of plants and a diverse variety of fauna.

The increase in tourist activities, among other problems, continues to present a serious challenge to the park's ecological balance. Corbett has been a haunt for tourists and wildlife lovers for a long time.

Garjiya Temple
14 kms. from Ramnagar,on the way to Ranikhet, is a huge rock in the midst of river Kosi. This place has been named Garjia Devi after the deity. The temple is visited by thousands of devotees from different parts of the state. A large fair is held here on kartik Poornima.

Dhangarhi Museum
It is 20 Km By road from ramnagar, Dhangarhi Museum is best place to visit in Corbett is situated at Dhangarhi. This museum has glass boxes containing head of tigers and elephants, killed in fight long back. You can also see there the belonging and life history of Mr. Jim Corbett.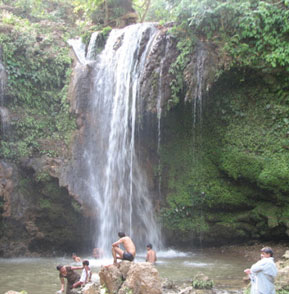 Corbett Fall near Kaladungi
Corbett falls is located 3 kms from Kaladhungi which is a welcome by nature with sound of water. Corbett falls is very much similar to the famous Kempty falls in Mussoorie, but Corbett falls is not spoiled by tourists and locals as compared to Kempty falls. The cool clear water cascading from a height is a beauty worth admiring. Above all, the passage that leads you to the Corbett Falls will fascinate you much before you reach there. The 1.7 kms long path with chirping and flights of birds send you a clarion call for a heaven ahead. Corbett Fall is undoubtedly beautiful; rustling leaves and killing silence definitely charm every visitor here. The wide area around the water falls provides very good parking and camping facilities. It is a very nice picnic spot. A nearby attraction is 'Nature Walk' museum, where one can experience the pure nature in its primitive style and calm.

Virgin Falls of Chunakhan
This beautiful fall is placed at 25 Km from our Travels. This water fall is small sight but brilliant. It's height approximately 68 feet and it is in backdrop of the scenic greenish forest. You can take a nature bath in the fall.