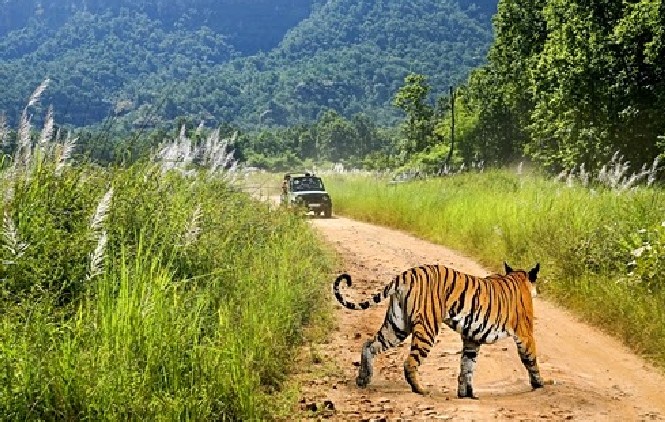 Elephant Safari is NOT booked in advance. Its booked on SPOT and subject to availability.
For Elephant Safari, one has to avail Jeep Safari to reach inside Bijrani Zone.
ID Proof: DL Number, PAN Card Number, Voter ID, Passport Number, Student ID etc.
The Traveler has to carry the same ID Proof as submitted in this form, while visiting Jim Corbett National Park.
Corbett Safari Entry Formalities:
All visitors to Corbett National Park have to obtain permits from the concerned authority. These can be obtained from the park administration centre located at Ramnagar. The 03 days duration permit is issued on the spot without any delay provided photocopies of the identity cards along of the applicants are made available. Foreign nationals have to produce their passport and photocopy for the same to get the permit. Corbett Forest Lodges Permits would be issued for a maximum of three days only. Permit is not transferable and once the permit is issued it is not refundable. The park authorities shall not be responsible in any way for damages caused.
Permit for Different Safari Zones: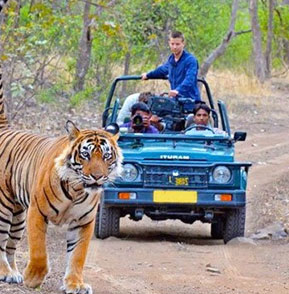 Corbett Tiger Reserve provides you four entry points namely Jhirna, Bijrani, Dhikala and Durgadevi. There are two types of permits that you have to obtain separately i.e. for the entry of Safari vehicles and forest lodges accommodation. You can obtain permit for these two online. It is always advisable to book your safari in advance i.e. you can book 30 days prior to your actual arrival. It is so because only 75 vehicles are allowed inside the Corbett National Park at a time. Safari is permissible only in the specific zone you have booked for. Once you have booked the safari there is no provision for cancellation and rescheduling.
The number of vehicles permitted to enter for day Safari in a particular zone is distributed as: Bijrani and Jhirna 30 Safari for each zone are allowed at a time while from Durgadevi only 15 Safari are allowed respectively within the Jim Corbett National Park.

Note: Apart from the above mentioned number of the safari, two canter safaris (16 seats per canter) are allowed especially in Dhikala tourism zone. The park authority of Wildlife Warden or in-charge may cancel your permit for any good and sufficient reasons to be recorded in writings.